Events & Ceremonies
LUI Che Woo Prize – Prize for World Civilisation
​Laureate Public Lecture 2018
Date:

October 4, 2018 (Thursday)

Time:
4:00 pm – 5:30 pm
(Registration from 3:00 pm and light refreshments will be served after the lecture)
Venue:
Rayson Huang Theatre, HKU (

location map

)
Speaker:
Dr Rukmini Banerji, Chief Executive Officer, Pratham Education Foundation
Moderator:
Dr Wang Dan, Associate Professor, Head of Division of Policy, Administration and Social Sciences Education, Faculty of Education, HKU
Language:

In English. Simultaneous interpretation in

Cantonese available
LECTURE ABSTRACT
India is close to achieving universal enrolment for children in the age group 6 to 14 – an enormous task for a country of 1.3 billion people. But is this "schooling" translating into "learning"? Years of data from Pratham Education Foundation's ("Pratham") Annual Status of Education Report reveal the answer. More than 50% of children in Grade 5 across the country are unable to read Grade 2 level text. A similar number cannot do basic operations like subtraction. This learning crisis needs urgent attention and an immediate solution if India's young population has to reach its full potential.
Over the years, Pratham has evolved an effective and durable solution for helping primary school children acquire foundational reading and arithmetic skills in a short period of time and at low cost. This approach is today not only being used in India but is also in demand in other parts of the world.
The lecture will trace the evolution of Pratham's innovative and indigenous approach. It will discuss the model's effectiveness in addressing challenges in education systems and outline the promising directions in ensuring that "every child is in school and learning well".
SPEAKER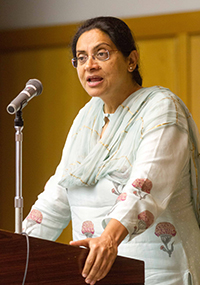 Dr Rukmini Banerji
Chief Executive Officer, Pratham Education Foundation
Rukmini has extensive experience in program design and delivery and has played key roles in developing and implementing Pratham's partnership programs with governments. Over the years, Rukmini has led assessment activities of Pratham including setting up an internal measurement, monitoring and evaluation unit. For ten years, from 2005 to 2014, she was the Director of ASER Centre, Pratham's autonomous research and assessment unit, which conducts the well-known, nation-wide Annual Status of Education Report (ASER) survey. Rukmini has been with Pratham since 1996 and took over as CEO in 2015.
Initially trained as an economist in India, she did her BA at St. Stephen's College and attended the Delhi School of Economics. She was a Rhodes Scholar at the Oxford University and completed her PhD at the University of Chicago in 1991 after which she also did post-doctoral research at the Population Research Centre at the same university. Rukmini worked as a program officer at the Spencer Foundation in Chicago for several years before returning to India in 1996.
Rukmini writes frequently on education in both English and Hindi and enjoys telling and writing stories for children. Originally from Bihar, she now lives in New Delhi.
THE LUI CHE WOO PRIZE – PRIZE FOR WORLD CIVILISATION
Founded by Dr LUI Che Woo on September 24, 2015, the "LUI Che Woo Prize – Prize for World Civilisation" is an annual, first of its kind, international cross-sector and innovative award for advancing world civilisation and inspiring people to build a more harmonious world. It aims to recognise and honour individuals or organisations all over the world for outstanding contributions in respect of three objectives:
Sustainable development of the world (Sustainability Prize)
Betterment of the welfare of mankind (Welfare Betterment Prize)
Promotion of positive life attitude and enhancement of positive energy (Positive Energy Prize)
More details: http://www.luiprize.org/en/home
PRATHAM EDUCATION FOUNDATION
LUI CHE WOO PRIZE 2018 POSITIVE ENERGY PRIZE LAUREATE
Pratham is awarded the LUI Che Woo Prize 2018 in the Positive Energy Prize category, with Elimination of Illiteracy as the special area of focus this year, on its dedication to improve quality of education and contribute to literacy attainment in India. Established in 1995 and with the mission "Every Child in School & Learning Well", Pratham has grown in scope and geographical coverage and is now one of the largest non-governmental organisations in India providing quality education to disadvantaged children, currently operating in 21 out of 29 states, reaching millions of children each year.
Pratham focuses on high-quality, low-cost, and replicable interventions to address gaps in the education system, it has brought game-changing impacts to education development, advocating related work in 16 countries across 3 continents.
The organisation is also known for its unique citizen led assessment initiative – ASER, a large-scale survey highlighting the efficacy of learning interventions. This initiative was acknowledged nationally and internationally for its innovative model of household-based, citizen-led assessment which has impacted education policy and practice within India and has also been adapted for use in more than 10 other countries in Africa and Asia.
Besides, Pratham is well-known for pioneering the Teaching at the Right Level approach to improve learning for children in primary grades. Pratham is able to convince governments to utilise existing education funds to embed Pratham's model into the public school system at the district, state and national level. While Pratham primarily scales through government adoption within India, its huge impact, proven by consistent evidence and third-party validation, has encouraged other developing countries to replicate the model with Pratham's expert guidance.
More details: http://www.pratham.org/