Online Communications
A One Stop Publicity Solution on hku.hk
The hku.hk provides the best solution with a one-stop online publicity platform for faculties and departments to post their event photos, banners, social media accounts, media stories, etc to the HKU main website. Find out more about this free publicity platform and the templates now! More ►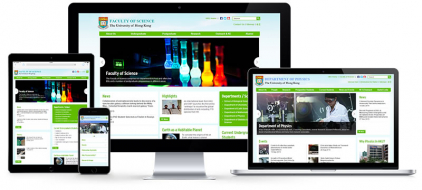 To help the HKU community with online communications and to promote good practices in web design, our free HKU website templates for faculties/ departments/ centres/ units have now been upgraded to be responsive to users' devices.
In other words, template users only need to update the content once and it will fit into different screen sizes of desktops, tablets or mobile devices. This allows web surfers to read and navigate on the website easily without having to resize the texts or images when using tablets or mobiles.
More information on HKU Templates for Faculties & Departments
Faculties / departments / centres / units of HKU can apply for an administrator account to submit content to the HKU main website through its HKU CMS.
Web Custodianship and Guidelines for Webmasters
Web Design Guide
Social Networking and Media Policy
Privacy Policy Statement